Paintings

You can make a choice from the following artists:


Lisa Wilkins Pirika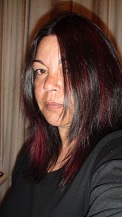 Being her agent for Europe we are proud to present the paintings of Lisa Wilkins Pirika.
Lisa Wilkins Pirika is a New Zealand painter of Maori descent.
Her tribal links are with Ngati Mutunga (Whare Kauri, Chatham Islands) and Ngai Tahu.
Her art is heavily influenced by both her Maori blood and her surroundings at her home in Birdlings Flat, Poranui Beach, on the east coast of New Zealand's South Island, and her role as the daughter of one of the kaitiaki (or guardians), Bob Pirika, Elder of Traditional Eeling methods at Lake Forsyth.
She also carves rakau (wood) with the full blessing of the senior male members of her whanau (family). Lisa is a self taught artist whose skills have been honed through many hours of patient thought, study and practice.
Her works are vibrant, colourful and multi faceted.
Her paintings show traditional Maori patterns and symbolism; she therefore uses contemporary materials
Feel free to visit this virtual gallery; underneath (please use the
inner-scroll
) you will find the images of the paintings and if you need more information, e.g. about prices and sales, please contact us
info@matariki.nl
There are limited editions of Giclee prints on canvas of some of the original paintings available, with handmade elements and signature.
The prices of these Giclee prints are lower and therefore Maori art is accessible for everyone's purse.
Please email us and we can give you all the information about the Giclee prints as well as the originals.
info@matariki.nl
It is also possible to have an original painting made on commission by Lisa, you can discuss all your personal wishes with me and will receive an extended price quote on the possibilities. Please email to
info@matariki.nl
This is the ideal way to have your very personal Maori original painting made in far New Zealand and ordered and obtained here in The Netherlands.
If you had rather see and experience the beauty and exceptional style of her original works in real you had best make a personal appointment with me through
info@matariki.nl
to come to the
semi permanent exhibition/ sales point in Rotterdam.
You will then get a personal tour by me and I will give you all the information about Maori symbolism in general and Lisas symbolism in particular.
Click on a thumbnail to see the full sized picture and art-description as well as Maori symbolic meaning.