Paintings

You can make a choice from the following artists:


Rob Fort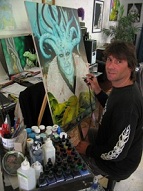 Rob is a self taught artist who started painting from the age of ten years old, using water colours.
He has expanded his skills, encompassing airbrushing, oil painting, sculpture and after much experimenting with many different forms of technique/media and subject matter, he has developed his own style using all the knowledge he has obtained in life and art.
His artistic depictions of nature are windows in time, which are channeled through painting.
His artworks have received much recognition and for this he has received numerous awards.
He has a huge love for the oceans/rivers and creatures living within them.
His works of art are celebrations of the marine and natural environments within New Zealand and the world.
In combining them with Maori symbols and traditional Maori art forms he gives shape to the unique world which New Zealand or in Maori language Aotearoa in fact is.
Looking at his work is like experiencing a visit to this magic land of myths and beauty of nature.
As his agent for Europe I am honored to introduce to you his original paintings of which many definitely show a strong Maori art element.
Also you will find here several Giclee prints of his original paintings in limited editions.
They are available on stretched Canvas or on Satin Paper / framed and some are even in different sizes.
Please use the (inner) scroll, and click on the images to find the details and enlargements.
Do not hesitate to ask for a noncommittal quote or any enquiries about these artworks at
info@matariki.nl
.
Or feel free to make a phone call at 0031 (0)78 6 42 52 87.