Beeldsnijwerk

U kunt kiezen uit werken van diverse kunstenaars:


Delanie Brown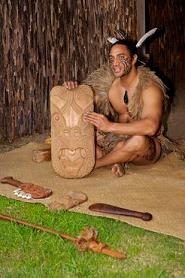 I am very proud to present to you the master carver Delanie Brown.
I met him in August 2007 and it was instantly clear to me that I would gladly like to perform as his agent for Europe.
His carvings are of a magnificent quality and express a high level of craftsmanship. I have seen him at work in his Whare Whakairo and he explained very clearly to me the symbolism, the legends, the patterns he uses.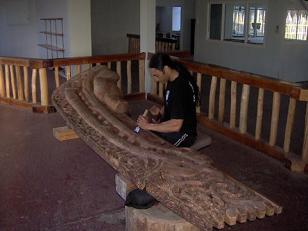 Also he told me about the many different kinds of wood and the way each of these have their own specific way of handling. Many aspects of the art of carving were becoming more clear to me that afternoon.
His tribal lineage ties to Ngati Tuwharetoa, Ngati Raukawa, Tainui and Ngati Whatua.
He has studied under many master carvers. Wikuki Kingi being the most influential.
He lives in Taupo, central North Island, NZ.
Delanie describes his passion for the art of carving and the meanings behind Whakairo as follows :
" To me Whakairo is a journey of the past the present and the future.
Through prayer I am able to call upon my ancestors, sit with, feel and ask of them to possess me so that I can create, share and collaborate with the ancestors of whom ever wishes to commission a piece.
So that the messages of their ancestors are placed into a physical form of beauty and preserved into their hearts. Whakairo is a vessel that preserves story, genealogy and message.
I believe God has gifted the treasure of Whakairo to the world. For within Whakairo the many patterns, symbols and designs encompass love, wairua, birth, life, death and eternal life.
We are all part of a master plan .A universal plan. Through Whakairo this can be seen, heard and felt.
I look at myself not as an artist. But as a link from Te Ao Wairua to Te Ao Marama. I create the form that assists and preserves the message. But they move in tandem. And if done with the right intent, words and feeling the impact can change lives, heal and bring people closer to God.
I believe God gave every culture this gift. And that Maori are one of these tribes that hold strong, respect and understand this. "
Here underneath you will find some of the many works Delanie has created.
They will give you an example of the beauty of carvings he is capable of creating.
Click on a thumbnail to see the full sized picture and art-description as well as Maori symbolic meaning.
Feel free to ask information of the possibilities Matariki offers you to be able to order a specific carving from Delanie on commission.
There are many possibilities, for several occasions like wedding, birth, birthday , but also corporate gifts and special gifts to that special company or unique occasion.
Also sport prices or other competitive occasion prices are very suitable objects for a beautiful wood carved artwork.
The specific occasion and background being the topic and the start of the creation of a unique treasure, a real Taonga which can be made for your special friend, wife, husband, family member.
But also for that special business relation who deserves a one-off unique piece of art.
Let the Maori artform of Whakairo be the guide to spiritualism and heartfelt meanings behind your special gift.
For information about commissioned work by Delanie Brown, or non committal quotes for possible orders feel free to use
info@matariki.nl