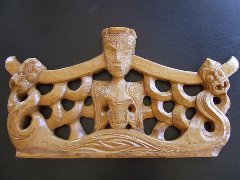 Wood carving. Taurapa for a waka. - M05102
This is the full scale Taurapa for a waka.
The Taurapa (canoe sternpost) provides spiritual protection and inspiration for warriors who travel in the waka (canoe). It links them, through their ancestral lines, to the Maori creation story.
The pare has a center figure that represents the bond of love between parents. The figure on the left depicts the wifes tribe and right the husbands tribe.
They are bound together by seven links each side which depicts their seven children. The seven children are reminded that they have the traits and bloodlines of their parents. The good and the bad.
Yet life is about journeying and sorting through the past and present Er is geen bericht geselecteerd Klik op een bericht om het in het leesvenster te bekijken. Bijlagen, afbeeldingen en links van onbekende afzenders worden om privacy- en veiligheidsredenen geblokkeerd. Als je berichten automatisch wilt weergeven als je een map selecteert, kun je de leesvensterinstellingen wijzigen Er is 1 bericht geselecteerd Markeren als veilig | Markeren als onveilig.