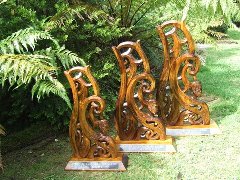 Wood carvings. 3 Taurapa - M05105
The Taurapa (canoe sternpost) provides spiritual protection and inspiration for warriors who travel in the waka (canoe). It links them, through their ancestral lines, to the Maori creation story.
These 3 Taurapa were commissioned for the international Formula 1 Grand Prix Car race between countries.
The figure at the base depicts a navigator striving for excellence.
The Taurapa is stylized for the waka he navigates as a racing car.