Beeldsnijwerk

U kunt kiezen uit werken van diverse kunstenaars:


Nigel Hamahona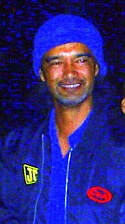 'It is my dream to see that every office, home, and school, has at least one Taonga (Treasure) proudly displayed, to inspire and carry the dreams of the viewer.'
It is with these words that I start my introduction of the Maori carver Nigel Hamahona. I am very proud to be his agent for Europe.
Nigel was born, raised, and educated in Wanganui. He began his training in Whakairo at Te Aohou Marae Wanganui in 1984, being taught by Aaron Tearamakutu, and later by Marua Cribb (at Manaakitia Trust), a notable Tohunga Whakairo of the Awa who, amongst other things, taught Nigel how to critique his own work enabling Nigel to give an honest opinion on the work of others.
Many years of training, experience and qualifications followed, on request a full list of Professional Qualifications is available for serious customers.
To further his own development, he was invited to enrol onto a pilot course that was teaching the highest levels of Whakairo spearheaded by Dr Pakaariki Harrison QSO and Professor Kereti Rautangata. This is where he became involved with three leading Taa Moko artists, Rangi Skipper, Derek Ladalli, and Riki Manuel and his interest grew from there to incorporate tattooing (Taa Moko) into his business. Cultural markings on the skin which are symbolic of genealogy, rank or mark special occasions in ones life. Each design is unique to the wearer since no two people have made the same journey through life.

It was through this course that he was urged to apply for the "Toi Iho" Mark of Quality and Authenticity, which he gained in 2002.
Nigel works with both traditional and contemporary materials ranging from wood, stone and bone to synthetic materials such as polystyrene and other man-made media and he is also practising the art of Maori Tattoo (Taa Moko).
As a custodian of the art he has a responsibility and an obligation to up hold the Mana (prestige) of Whakairo (Maori art of carving). This is his way of life; it's more than just an art form, for it encapsulates the very essence of his culture; a culture that must now take its place in the sun. Uniting people through a common understanding of beauty
Nigel creates designs that have been inspired by nature and designs that come to the artist in dreams and visions, thus giving the artist the ability to access both the physical and psychic levels of his being. Making us sensitive to things beyond the natural range of perception. Form and line that will be left for the viewer to interpret discuss and come to their own conclusion.
Underneath you will find images of his works, by clicking on them you will find the enlargements and details. Of the works that are sold Nigel can do commission work, and very similar but never exactly the same carvings as each piece of art is unique. If you wish to purchase artwork or commission Nigel to make a work for you, or for information about prices and availability, please contact me through
info@matariki.nl
Phone: 0031 (0)6 120 55 817.