Schilderkunst

U kunt kiezen uit werken van diverse kunstenaars:


June Northcroft Grant
I am happy and very proud to announce to you Mrs. June Northcroft Grant.
Her Maori Tribal Affiliations are : Te Arawa, Tuwharetoa, Tuhourangi /Ngati Wahiao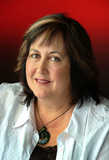 June was born in 1949. She grew up and was educated in Wairoa, Wanganui, and Rotorua. She is a direct descendant of Makereti Papakura, a well known guide of Whakarewarewa Village in Rotorua, central Northern Island, where thousands of tourists, in days gone by, were escorted through the wondrous scenic attractions of the area. Makereti has had a strong influence on June's life and work.
June graduated from the Waiariki Polytechnic in Rotorua in 1989 with a Diploma of Craft Design. She is inspired by her ancestors and her work is often interwoven with powerful figures and stories from her own tribal history.She says: ' Each time I paint the story of one amazing tupuna (ancestor), another comes to light with yet another fascinating contribution to the histories of the tribe.'
She has received numerous awards for her achievements in arts and culture and participated in many contemporary Maori art exhibitions not only in New Zealand but also in Canada and Australia.
June, a mother of four, grandmother of six, is a woman who lives her life to the full. Through the powerful medium of her art, she is telling her stories in a way that she could never verbally articulate. 'My paintings can sometimes visually express the words that I dare not say out loud. They project the image that talks about how I am feeling. Isn't that what art is supposed to do – tell the story?'
She also spent three months painting on the West Coast of the USA and was inspired by Native American culture, art and symbolism which resulted in several powerful paintings among which are also the magnificent Whaea paintings. She had read about and was inspired by native American 'Clan Mothers', tribal leaders with special abilities. She discovered too many similarities to be ignored with her own Maori culture and interpreted these inspiring stories in this impressive series of Whaea paintings.
I am very proud to be her agent in the Netherlands.
Underneath you will find the images of recent works. Some of them may already have been sold, but they will definitely give you an impression of her style and of what June is capable of and of her exquisite quality of painting. If you would like to know more about her paintings or if you would be interested in the possibilities for commissioned works, please contact me on
info@matariki.nl
or phone 0031(0)612055817 and I would be happy to give you the information.