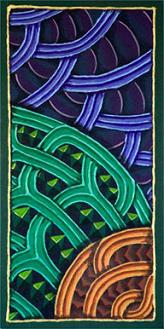 Embossed culture in nature colors - M04118
Acrylic & mixed medium on canvas

The relief glue panels give the dimension of carving in a contemporary way, accentuated by metallic highlights. I wish to explore modern techniques, and materials from the point of view of my Ancestors, including the paradox of materialism and earning a living, and quantity and speed vs. quality and craftsmanship. These are the issues which cause conflict within modern Maori, and permeate not only the work, but the doing.