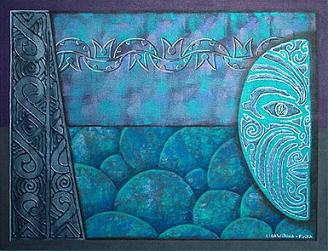 Aranui Dreaming - M04130
Acrylic & mixed medium on canvas

Inspired by a song penned by `Scribe`, a local Rapper/musician from my old neighborhood. The Moko represents the individual, whose base is grounded in the earth (stones) but his head is in the clouds. Left hand panel represents Aranui, meaning long path, the path of destiny. The design running through the sky depicts the threads of creativity that form an idea, drawing us to our path of destiny.