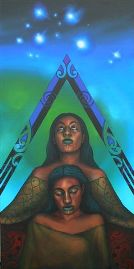 Matariki - M04560
Limited edition print/original medium acrylic on canvas/ media : 310 Hahnemuhle archival German etching

Remember. As Maori our lives are forever connected to those that have past on, and those still to come. Our Tupuna and our mokopuna. It is our reason for being and measures the value of our life. For me Matariki is a symbol and signal for life. When it rises I remember my father, my old people, my ancient ancestors and friends and whanau that are not with us here in this world. They taught us about living, loving, hardship, work, grief and dying, lessons in life. This always comes first. It opens the door to move forward and emphasizes our purpose which is a celebration of life, whanau and whenua.
Time for me is not measured in years, Matariki is not just a new year but a time to acknowledge my life and those connected to me from past, present and future. What value I offer and how best to use the time I have to enhance the lives of those close to me. I am indepted to those that have gone. To honor them my life must have worth. It is about sustaining life, preparing the earth for the next harvest and what to expect in the coming year. All towards life and its sustainability. Preparing the earth, preparing the whanau.
In the painting 2 women are beneath the amo of a Te Whare Houora. The whare represents our life and wellbeing on this earth. We are guided and nurtured by the elements that sustain us however we are also kaitiaki of this realm so in protecting our environment, we also protect ourselves. Our wairua, tinana and hinengaro that are replenished by heaven and earth, knowledge and understanding.
One woman has eyes raised to the heavens for guidance and affirmation. Her korowai is decorated with the pattern of life and whanau, Patiki. Her arms are raised to embrace the future. The other woman looks down, she remembers the past, her tupuna and those significant on the long path that led to her.