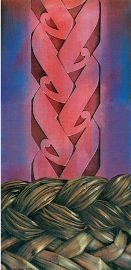 Taura - M04571
Limited edition print (50) on 310 Hahnemuhle archival German etching paper. Image size 50 x 24cm
A rope is formed by many strands.The quality of its manufacture determines its strength. This pattern uses taura or rope in comparison to the diverse bloodlines and heritage that create our unique makeup. Our understanding of where we come from, the stories behind these people can influence our strength, values and determination.
I feel, personally that I have become more independently trustful of my feelings and ideals. I am proud of my many strands and have realised that there is no black and white, no right and wrong when it comes to cultural concepts or outlooks. At the end of the day the direction is my choice.
A rope can be utilised in many ways. A cable or rope can provide a link, a crossing or bind together. The strength of the rope then determines the strength of that for which it is being used for wood, waka, voyaging and whanau, hapu, iwi. This pattern was developed by depicting the weave in a rope.