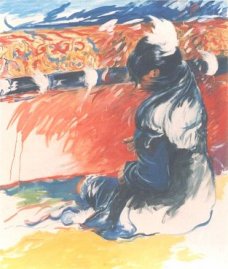 HUIA (Waitangi celebrations 1990) - M04702
Print - Framed sizes:65 x 55 cm / print sizes 422 x 595mm.

A woman from Taranaki is decorating the waka. White feathers from various species of birds are used today. Traditionally they were feathers of the Huia bird which is now extinct. The Huia feather also symbolizes the defiance of the Taranaki people to the colonial oppression.