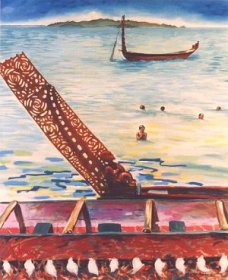 HE WAKA MAORI - M04704
Print - Framed sizes: 65 x 55 cm / print sizes 422 x 595mm.

Waka means canoe.
Maori canoes assemble in the Bay of Islands on February 6th in commemoration of the Treaty of Waitangi.
White feathers from various species of birds are used today.
Traditionally they were feathers of the Huia bird which is now extinct.
The canoe stern post or Taurapa shows beautiful wood carving in the traditional Maori carving patterns.