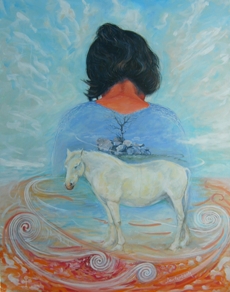 KA MAHARA KI TE IA (Girl with Te Kooti`s horse) - M04713
Original painting - Eggtempera and oil on canvas 900 x 700mm.

Remembering Te Kootis horse. Ka mahara ki te Ia is an expression of remembering, thinking of Ia, which was the name of the white horse belonging to the prophet TE KOOTI. Although the past is always remembered strongly, things have changed and it is impossible to go back to the old ways. The dead symbolizes transformation.