Maori
In about AD 800 the first settlers arrived in New Zealand from the Cook Islands, Society Islands or the Austral Islands.
New Zealand
( the land of the long white cloud -
Aotearoa
) was the last island of Eastern Polynesia to be colonised.
These first colonisers came on a carefully planned expedition to discover a new land. The immigrants had to adjust to much colder temperatures and discover the resources of the country and the conditions it imposed upon them and invent new ways of providing themselves with food, clothing, tools and shelter.
At first they spent much of their time near the shore, by river mouths and harbours and they lived mostly by hunting, fishing and food gathering. One of the favoured areas was the east coast of the South Island.
By the early 15th century the climate was changing for the worse, the place to live now was the North Island.
A cultural change took place - the tribal people changed to horticulture and therefore settled more to one place to protect their plantation and formed a Pa, or stronghold, generally built upon hilltops, cliffs or other places with natural defences.
These fortresses were also ceremonial centres, where meetings were held and hospitality was lavish.
Maori
society is based upon the principle of kinship, firstborn being of the highest rank.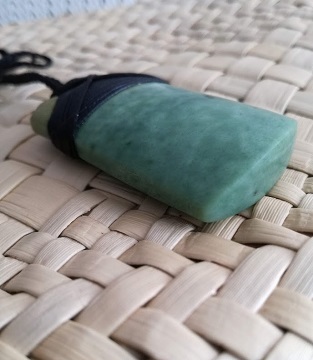 Oratory became one of the high art forms of the Maori, a way for the rangatira (chiefs) to control their proud warriors with eloquent words. The dependent relationship with their environment shaped their process of thought and led to ideas explaining the origin and nature of the world. The songs and narratives of the Maori express these ideas.
By 1840 Maori writers and interested Pakeha (person of non-Maori descent, usually European) who provided support laid the foundation of verbal Maori Arts which made it the best recorded of any tribal people.
By the time the Maori started to build Pa's ( 15th century) it brought an increasing need for wood-working tools.
Greenstone was found in the South Island : West Coast, Fjordland and Central Otago, and was for long used by the Maori who lived there. It offered the right material for adzes and chisels. Soon greenstone became a most precious trade commodity and was used for tools, weapons, fish-hooks and ornaments such as ear pendants and tiki ( human image worn as neck pendant).
With the greenstone adzes and chisels the Maori could use the wood of totara and kauri trees to make beautiful rich and complex wood-sculptures to decorate their houses, meeting houses (whare runanga), store houses, canoes, but also wooden articles, small boxes, weapons.
The very common flax plant (Harakeke) provided immensely tough, versatile material which was used in making garments, nets, cordage, floor mats and numerous other articles.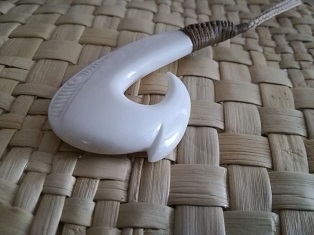 In this day and age the Maori of New Zealand are proud to show their ways and means in their art, which symbolizes their very unique and special culture, now transparant to the world outside Aotearoa.
They still use the symbolism of their culture for the beautiful artworks.
The traditional patterns are used (kowhaiwhai), the same native kinds of wood like Kauri, Rimu, Totara, Matai and many more, although only the pieces that are windfallen or found in the swamps for the centuries old trees are protected now. They replaced whalebone by cowsbone and make fabulous symbolic pendants from it; jade or greenstone(pounamu) is still beautifully carved as a jewel with sometimes the functional forms as a pendant.
Bone carvings, greenstone (pounamu) or New Zealand jade carvings are very special and perfect as a gift or even corporate gift because of the Maori symbolic meanings.
In Maori culture it is a great honour to receive such a gift and it was also used in Maori culture to give to a Maori warrior after his achievements or from father to son and so on and thus passing through the spirit of the ancestor.
A carving that has been worn by family or tribal members over many generations contains the spirit of all of those people and is truly a great and powerful treasure.
Because of this value of giving away a carving it is not really allowed to buy them for yourself (tapu) even though they have just newly been carved. But of course it is very appropriate to give a bone carving or greenstone carving to a special friend or relation. A variety of designs symbolize different meanings. There is always one for your beloved or appreciated person. The symbol of giving can be accentuated by the special symbolism behind the several Maori designs.
Paua, the innershell of the Abalone, gives strength and inspiration according to Maori culture and is used for fine jewellery and artefacts. Mother of Pearl is used for the creation of jewellery too and often used for beautiful necklaces and earrings.
The art and artefacts
Matariki
wants to offer you reflect the cultural heritage of the Maori. You can make a choice from a large assortment of Maori art and artefacts,; paintings; sculptures; wood carvings; bone carvings; greenstone carvings; symbolic jade or bone pendants; Paua and Mother of Pearl jewellery, a variety of accessories, hand plaited artefacts from flax ( Harakeke): baskets and handbags (Kete) or giftware from native New Zealand wood or Paua and Greenstone.
Come and step into the world of Maori, all treasures reflect a smile from the Pacific.....
Matariki invites you to visit our sections
Art
and
Artefacts
.
You can click on a thumbnail to see the full sized picture with description and / or Maori symbolic meaning