News
May 2008,
Grand Café Bellissimo in Pacific style/ Matariki gallery exhibition in Davinci college, Dordrecht, The Netherlands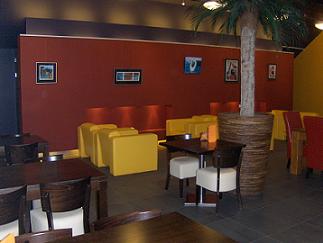 From Tuesday 13th of May 2008 Matariki gallery has an exhibition of artworks and smaller artefacts in the brand new
Grand Café Bellissimo,
location Davinci College / Leerpark Dordrecht
Leerparkpromenade 100
3312 KW Dordrecht. The Netherlands.
Open Monday to Friday from 08.30 AM tot 20.30 PM (weekends closed)
Summer holidays, the Grand Café is closed from 12th of July until 1st of September 2008.
The spacious atmosphere makes it an ideal place and setting to enjoy a tasteful drink or snack and enjoy Maori and Pacific art as well. This beautiful modern location also offers good opportunities to the mobile entrepreneurs and executives who want to make their business appointments in a quiet environment and enjoy a cup of coffee or tea and what about a lovely lunch or tasteful dinner or buffet with your business relations?
This Grand Café situated on the premises of the brand new Davinci College has offered Matariki a complete wall for several Maori (Giclee) prints and you can also have a look at some smaller artefacts like Maori woodcarving, traditional Maori weaving etcetera.
Would you like to look closely at the Maori and Pacific art of Matariki gallery and feel and experience the pacific atmosphere then come and enjoy some of the beautiful artworks of our Maori art collection.
Detailed information about the Maori artists, materials, prices as well as symbolism is present in the Grand Café.
Would you like to buy one of the artworks or be advised about the backgrounds and Maori symbolism, you can make a personal appointment with Jolande Quispel, director/owner of Matariki gallery. She will be happy to give you personal advice.
Ph: 0031 (0)78 642 52 87 or Cell phone 0031 (0) 6 120 55 817 or send an email to
info@matariki.nl