News
Promotion for Matariki Gallery in the jubilee edition of the luxury lifestyle magazine
'Miljonair' 19-12-2010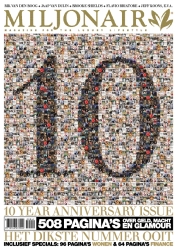 In this edition one can find an extended article about New Zealand of 18 pages long.
Matariki Gallery is mentioned on the so called Inspiration Page with a beautiful picture of one of the showpieces and collectors items of our collection pendants carved from Pounamu (Greenstone, New Zealand Jade).
This jubilee edition has been launched during the opening of the 'Miljonair Fair' on the 9th. of December 2010 in Amsterdam (officially opened by Brooke Shields) and will be in the shops until beginning of March 2011.
We are proud to be part of such an inspiring article about New Zealand.
Click
here
to see the Inspiration Page of the New Zealand article.