Weaving

You can make a choice from the following artists:


Traditional Maori Craft of Flax Weaving and Plaiting
Maori did not have a written language until after the arrival of the missionaries. However, along with the oral histories passed between generations, much of the tribal histories and legends were permanently recorded for all to refer to in the carving and weaving of the various iwi (tribes).
Weaving was just as carving a gift from the Gods.
Raranga (weaving) is one of the Taonga (treasures) of Hine-te-iwaiwa, the female personification of the moon( Marama) and also the Maori goddess of weaving, plaiting and other arts.
The craft of Raranga was introduced to the Maori by Niwareka who visited the human world.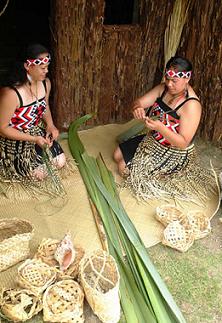 In older times a Maori girl could not enter the Whare Parapara ( House of Weaving) just like that, she was first examined as to her fitness for the work required.
The Maori developed the craft of weaving and plaiting to a fine art to make not just clothing but a variety of other articles for use in daily life.
Raranga creations include Tipare (head bands), Korowai (cloaks), Piupiu ( skirts), Kete (baskets), Whariki (mats), Tukutuku (wall panels) and the cover of Poi balls used for the Poi dance of the Maori women.
The material used for the weavings and plaiting was New Zealand Flax - Harakeke ( Phormium Tenax) and today this is still being used. There are many varieties of Harakeke.
The Maori women of today are still proud to present this craft of weaving in their beautiful creations.
Nowadays the Kete include baskets but also bags and handbags, which in turn brings this art form to very wearable and useable artefacts.
See for yourself what a lovely designs there are and how exquisite and unique they look.
These works of art can be a perfect gift for someone special or for that special occasion.